Multi-Vita-Maxx
Award-Winning Daily Multivitamin for Men and Women Made with Only Organic Whole Food Ingredients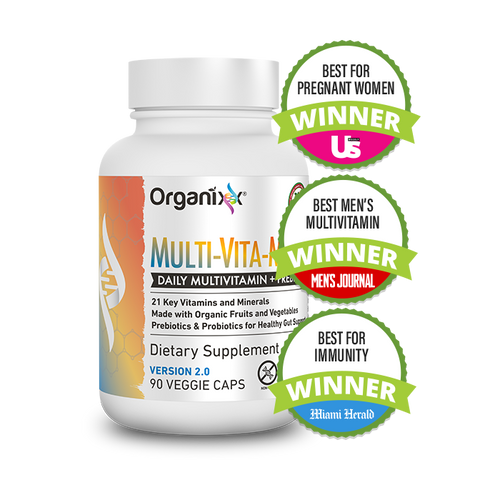 $46.71
You save:

$8.24

(

15%

)
Increase quantity below for better discounts
Quantity:
1 bottle
(save $8.24 per bottle)

15%+ Savings on all
Subscriptions

Free Shipping on
Orders over $99

1-Year Money-Back
Guarantee
BENEFITS
Enhances your daily diet & helps fill nutrient gaps*
Supports healthy immunity, digestion & brain function*
Patent-pending fermentation process maximizes nutrient potency & absorption*
Helps boost energy for improved overall health & vitality*
Can be taken on an empty stomach with no stomach upset
Capsules have a light, pleasant smell with no weird aftertaste or "vitamin burps"
PRODUCT DETAILS
Whole food supplement with ZERO synthetic ingredients
21 uniquely fermented vitamins & enzyme-activated minerals
Made with 8 organic superfoods and botanicals
Replaces your current multivitamin, vitamin C, B complex, D3, and any whole food fruit & veggie supplement
Easy-to-swallow soft vegan gel capsules
Non-GMO; No fillers, additives, artificial flavors, preservatives, colors, yeast, soy, sodium, or starch

Dr. Melissa Gallagher,
Naturopathic Physician
Patients often ask me if it's absolutely critical that they consume a multivitamin on a daily basis and if there is any known benefit in incorporating a multivitamin regimen into their wellness programs. I always tell my patients that not ALL multivitamins are created equally. Influences like type of nutrient ingredients, formulation practices, sourcing, and bioavailability are all important to consider when seeking a beneficial multi. And did you know that over 95% of all vitamin supplements on the market today are ALL or partly synthetic?
Organixx is a leader in the world of vitamin bioavailability because their Multi-Vita-Maxx only uses organic, plant-based nutrition. It's allergen-free, filler-free, additive- and artificial-color-free, and it's also 3rd-party purity tested and verified.
I happily recommend Multi-Vita-Maxx to patients who are not consuming their max daily servings of fruits and veggies. About 98% of my patient practice fits into this category. Let's be honest, consuming the necessary quantity of fruit and veggies daily is often challenging with our busy lives and we need a highly beneficial formulated multi-vitamin with extra oomph that can help fill in the micronutrient gaps. This is where Multi-Vita-Maxx comes into play with extra beneficial functional mushrooms that also enhance the vitamin antioxidant delivery.

INGREDIENTS

Organic Alfalfa Juice Powder
Alfalfa (aka lucerne) is a member of the legume family that has a long history as a traditional herbal medicine. It has a high content of bioactive plant compounds including saponins, flavonoids, phytoestrogens, coumarins, alkaloids, amino acids, phytosterols, vitamins, digestive enzymes, and terpenes.

Organic Spinach Powder
Popeye's favorite leafy green vegetable is a rich source of vitamins and minerals including folate, niacin, vitamin A, B6, C, and K, as well as calcium, iron, magnesium, potassium, copper, manganese, and zinc. It's also packed with eye-protective beta-carotene, lutein, and xanthene.

Organic Sprouted Purple Maize
Commonly known as corn, maize is a good source of phosphorus, niacin, dietary fiber, manganese, and several B vitamins, including B3, B6, and pantothenic acid (B5). In terms of phytonutrients, maize is best-known for its carotenoids – especially lutein and zeaxanthin.

Organic Broccoli Powder
Broccoli is a concentrated source of vitamins C, K, and fiber. High in chromium, it's also a very good source of manganese and a good source of selenium and zinc. This cruciferous veggie contains high levels of glucoraphanin, a phytochemical that can be converted into the cancer-fighting compound sulforaphane.

Organic Raspberry Juice Powder
Raspberries boast one of the greatest diversities of antioxidant and anti-inflammatory phytonutrients including a powerful antioxidant known as ellagic acid and rheosmin (also called raspberry ketone). They are an excellent source of many nutrients including vitamin C and manganese, vitamin B, folic acid, copper, and iron.

Organic Orange Peel Powder
Just like the flesh of an orange, orange peel is loaded with vitamin C. In fact, orange peel contains substantially more enzymes, flavonoids, and phytonutrients than the fruit itself! The flavanones in orange peel are powerful antioxidants that fight free radicals and reduce oxidative damage.

Organic Turkey Tail Mushroom
Turkey tail mushroom contains an abundance of antioxidants and polysaccharides along with high levels of selenium and vitamins D and B3, which are crucial for maintaining immunity. Turkey tail is also an excellent prebiotic for the microbiome, helping to replenish the gut with probiotics (beneficial gut flora).

Organic Bell Pepper
Bell peppers contain a wealth of nutrients and are an excellent source of vitamin C and A (in the form of carotenoids) and B6. They are a good source of a number of other B vitamins (B2, B3, folate, and pantothenic acid) as well as vitamin E, potassium, molybdenum, and fiber.

3rd-Party Tested & Verified
Organixx pays to have all our products tested by NSF (an internationally recognized leader in independent product testing) and other highly reputable third-party testing labs. These third-party laboratories test for glyphosate (the active ingredient in Roundup), GMOs, pesticides, herbicides, insecticides, and heavy metals. We're proud to be one of the few (if not the only) supplement companies to openly and honestly share all of the test results on our website. Click here to see 3rd-party test results for our Multi-Vita-Maxx.

Multi-Vita-Maxx uses fermented whole food enzyme-activated sources. This means it will provide the dosages of vitamins and minerals available from those food sources – not the unabsorbable mega-doses of any particular vitamin as can be found in synthetic isolated vitamins. If you look at any other food-sourced vitamin you will find similar dosages.

Your body also knows how to effectively assimilate and utilize the nutrients found in whole foods. This is not the case with synthetic vitamins and minerals which often pass right through the body, which essentially makes the Daily Value percentage for synthetic ingredients obsolete.
Folic acid is the synthetic version of folate. Multi-Vita-Maxx derives its folate from organic plant sources including spinach, broccoli, orange peel powder, raspberry juice powder, and bell pepper.
Our Multi-Vita-Maxx formula is free of many common allergens. It does not contain shellfish, dairy, soy, egg, or nuts. There are also no gluten-containing ingredients in any of our products.

Multi-Vita-Maxx is not yeast-free as some of the vitamins in the product are grown in Saccharomyces cerevisiae. Multi-Vita-Maxx does contain organic sprouted purple maize (Zea mays) which is purple corn.
Yes, Multi-Vita-Maxx is both vegetarian and vegan.
Unlike most vitamin supplements, Organixx supplements (including Multi-Vita-Maxx) contain NO preservatives or fillers.
At Organixx we strive to source the highest-quality ingredients available, including USDA Organic whenever possible. For all of our products, each of the individual ingredients that are certified organic are specified on the label.

In the case of Multi-Vita-Maxx, all of the ingredients in our fermented botanical blend are organic and the overall product carries the NOFA-NY Certified Organic seal.

One item of note that is not organic is the capsules themselves. As soon as certified organic capsules become available for use in the supplement industry, we will be moving to organic capsules as well.
Each bottle of Organixx Multi-Vita-Maxx contains 90 capsules. Adults are recommended to take 3 capsules daily with 8 ounces of water or juice, and it may be taken with or without food.
Yes, Multi-Vita-Maxx capsules contain a powder that can be added to any beverage or food and consumed that way if preferred. Note: Avoid very hot foods/beverages as excessive heat can damage some of the water-soluble vitamins and enzymes.
You can also open the capsules and add to recipes such as smoothies, puddings, salad dressings, etc.
See our INSPIRED Recipes Library for ideas.
Yes we do. Organixx products are tested by NSF International, a highly respected independent 3rd-party testing company. NSF tests Multi-Vita-Maxx for heavy metals (arsenic, cadmium, lead, and mercury), glyphosate (the key ingredient in the herbicide Roundup), and pesticides. You can
find our independent 3rd-party lab test results here
We ship 7 days per week. Orders received by 9am Eastern time will likely ship the same day while all other orders will likely ship out the next business day. Subject to change based on volume.
We offer free shipping on all domestic (U.S.)
Subscribe & Save
orders, regardless of the order value. All other domestic orders of $99+ receive free shipping. Canadian residents can get free shipping for all orders of $149+ and international customers receive free shipping on all orders of $199 or more.
Subscribe & Save is available on every product and is the best choice for products you intend to use daily. Not only do you get an automatic savings of at least 15% off*, but you also don't have to worry about remembering to order your favorite supplements month after month. (*Tip: 3- and 6-bottle Subscribe & Save options enjoy even greater savings.) Click
here
to get all the details about our Subscribe & Save program.

CUSTOMER REVIEWS
Amazing absorption
I actually feel this vitamin is filling my needs. I had surgery that hinders absorption and though it's been a month, it's not life changing, I feel small changes in my health.
Multi-Vita-Maxx
I honestly feel better after taking these. I think I was missing something nutrient-wise, and this multi fills in the gaps for me:)
Excellent multi-vitamin
I've been able to eliminate lots of nasties by switching to the Organixx multi-vitamin and also other added supplements as this one supplies me with just the right stuff.
Love it! I've been taking for yrs.
I plan to take organixx as long as possible
Multi-Vita-Max Review
I really love taking Multi-Vita-Max. I know we can trust that the product is healthy and covers a wide variety of vitamins that we all need. It makes things very easy!
I like that every ingredient is food based & fermented for better absorption. Great vitamin & mineral product.
Multi-Vita-Maxx i
Multi-Vita-Maxx is wonderful! It gives me energy during the day and lets me sleep at night. Thank you for making it!
Multi Vita Max
I have been taking this supplement about 2 years now. It's hard to say exactly what a multi vitamin actually does for you when you take it. All I can say is that I am in good health and I have good energy for a 70 yr old lady. I have found the auto delivery works well for me.
Multi
I am not at all comfortable without this "main squeeze!"Ive run out from time to time. Not a good idea.
1-Year Money-Back Guarantee

1-Year Money-Back Guarantee
WHY ORGANIXX?
Farm to Bottle Ingredients
The majority of daily vitamins and supplements on the market are made with synthetic ingredients, as well as fillers, binders, coloring, flavorings, preservatives, and other artificial ingredients that your body has a hard time recognizing. At Organixx, we're proud to offer the absolute best nutritional formulas that help people get and stay healthy. Our products are made with REAL plants and whole FOODS that your body already knows how to assimilate and use to the greatest advantage for your health. They'll help you look, feel, and live better... naturally!
People Over Profits
We believe in doing things differently. While most supplement companies spend the majority of their money on advertising, we spend ours on the highest-quality, clean, and non-GMO ingredients available – certified organic, whenever possible. In fact, we spend on average 400% (4 times) more to manufacture our products because of our certified organic ingredients and time-consuming fermentation and sprouting processes that increase bioavailability. In the end, you get exactly what you pay for – the best supplements on the market.
Maximum Nutrition
Many of our supplements and their ingredients are sprouted and/or fermented as part of the production process. You've likely heard about the gut health benefits of eating fermented foods. But did you know that fermentation also helps enhance the vitamin and mineral content of whatever's being fermented? It's a form of pre-digestion which means your body can absorb even more of the "good stuff" in the supplements.
More Bang for Your Buck
While our supplements might cost a little more, in the end, you save more. We focus on formulating synergistic BLENDS that address specific health needs. We start by researching the best and most effective synergistic combinations and then we source the cleanest, highest-quality ingredients available. You get the results you're looking for without the expense and hassle of buying dozens of supplements and swallowing handfuls of pills every day. It's a win-win for everyone.
Manufactured in the U.S.A.
All Organixx products are manufactured in the U.S.A. at an FDA-registered, CGMP-compliant facility. The vast majority of the individual whole food and specialty ingredients that we use in our supplements and skincare products are grown in and sourced right here in the U.S. The few ingredients sourced from other countries are indigenous to those regions, with ZERO of our ingredients being sourced from China.
Our Results Speak for Themselves
Over 115,000 health-conscious customers like you use and trust Organixx products to enhance their health and we've received well over 10,000 5-Star reviews. We also receive a LOT of overjoyed feedback from folks sharing how pleased they are to finally find a supplement company 100% committed to using the purest, non-GMO and certified organic ingredients wherever and whenever possible! Be sure to read our verified customer reviews for Multi-Vita-Maxx here.

Organixx is Helping 80,000 Mothers & Children in 2023
Purchasing Organixx supplements does more than just support the health of you and your family... it also helps pregnant women, breastfeeding mothers and children under five who are at risk of malnutrition... right here in the U.S. and around the globe. We are proud to partner with Vitamin Angels, a global public health nutrition organization. For over 25 years Vitamin Angels has promoted maternal and child health by ensuring vulnerable, underserved populations have access to lifesaving and life-changing vitamins and minerals. This year alone, Organixx's financial support will allow Vitamin Angels to assist 80,000 children and mothers in 70 countries and all 50 states. Thank you for helping us do even more good in the world!