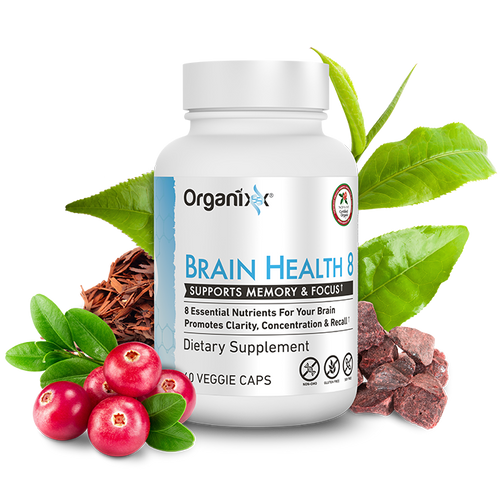 $46.71
You save:

$8.24

(

15%

)
Stock up and save more
Quantity:
1 bottle
(save $8.24 per bottle)

15%+ Savings on all
Subscriptions

Free Shipping on
Orders over $99

1-Year Money-Back
Guarantee
CUSTOMER REVIEWS
Worth the price!
Taking it once in the morning and once in the evening and sure helps with mental acuity!
As I age, I want to make sure my mental agility
continuous to grow with my body.
Too soon to respond.
Have not experienced anything new or unusual. Will try 2nd bottle next order to confirm.
Trust Organixx
Bought this for my 88 year old mom, hopefully Its helping ! Too soon to tell, but it certainly will have some benefits!!!
Brain Health
I noticed, relatively soon, that I was able to recall quicker and a bit sharper than previously. I'm expecting even more progress going forward.
Thank you so much,
Marcia Z
Increased focus
Since starting this product, i have experienced increased mental focus and reduced brain fog.
I believe there's a subtle difference because of taking the supplement… It's not big it's subtle
Great overall body health not just the brain
Even our dog's think we are smarter
My family loves this product!
I have seen an improvement in function in all three of the family members now using Brain Health 8.
Brain Health 8
I've used this product for a bit more than a month. I'm not sure how I can see if it's working for my memory. I trust the company completely but I wish there were some sort of quantitative test to be sure about products. I take so many supplements from Organixx and I don't want to be over-supplementing. I can only halfway afford them when they are on sale! Thanks for offering great sales.
Brain Health 8
I definitely noticed an improvement with my memory, forgetting fewer words, and being able to have a clear conversation without forgetfulness moments, WOW
It is really great, thank you so much for this amazing natural supplements Mother Nature makes available for us and you are forwarding to us all 🙏🙏
1-Year Money-Back Guarantee

1-Year Money-Back Guarantee
WHY ORGANIXX?
Farm to Bottle Ingredients
The majority of daily vitamins and supplements on the market are made with synthetic ingredients, as well as fillers, binders, coloring, flavorings, preservatives, and other artificial ingredients that your body has a hard time recognizing. At Organixx, we're proud to offer the absolute best nutritional formulas that help people get and stay healthy. Our products are made with REAL plants and whole FOODS that your body already knows how to assimilate and use to the greatest advantage for your health. They'll help you look, feel, and live better... naturally!
People Over Profits
We believe in doing things differently. While most supplement companies spend the majority of their money on advertising, we spend ours on the highest-quality, clean, and non-GMO ingredients available – certified organic, whenever possible. In fact, we spend on average 400% (4 times) more to manufacture our products because of our certified organic ingredients and time-consuming fermentation and sprouting processes that increase bioavailability. In the end, you get exactly what you pay for – the best supplements on the market.
Maximum Nutrition
Many of our supplements and their ingredients are sprouted and/or fermented as part of the production process. You've likely heard about the gut health benefits of eating fermented foods. But did you know that fermentation also helps enhance the vitamin and mineral content of whatever's being fermented? It's a form of pre-digestion which means your body can absorb even more of the "good stuff" in the supplements.
More Bang for Your Buck
While our supplements might cost a little more, in the end, you save more. We focus on formulating synergistic BLENDS that address specific health needs. We start by researching the best and most effective synergistic combinations and then we source the cleanest, highest-quality ingredients available. You get the results you're looking for without the expense and hassle of buying dozens of supplements and swallowing handfuls of pills every day. It's a win-win for everyone.
Manufactured in the U.S.A.
All Organixx products are manufactured in the U.S.A. at an FDA-registered, CGMP-compliant facility. The vast majority of the individual whole food and specialty ingredients that we use in our supplements and skincare products are grown in and sourced right here in the U.S. The few ingredients sourced from other countries are indigenous to those regions, with ZERO of our ingredients being sourced from China.
Our Results Speak for Themselves
Over 115,000 health-conscious customers like you use and trust Organixx products to enhance their health and we've received well over 10,000 5-Star reviews. We also receive a LOT of overjoyed feedback from folks sharing how pleased they are to finally find a supplement company 100% committed to using the purest, non-GMO and certified organic ingredients wherever and whenever possible! Be sure to read our verified customer reviews for Brain Health 8 here.

Organixx is Helping 80,000 Mothers & Children in 2023
Purchasing Organixx supplements does more than just support the health of you and your family... it also helps pregnant women, breastfeeding mothers and children under five who are at risk of malnutrition... right here in the U.S. and around the globe. We are proud to partner with Vitamin Angels, a global public health nutrition organization. For over 25 years Vitamin Angels has promoted maternal and child health by ensuring vulnerable, underserved populations have access to lifesaving and life-changing vitamins and minerals. This year alone, Organixx's financial support will allow Vitamin Angels to assist 80,000 children and mothers in 70 countries and all 50 states. Thank you for helping us do even more good in the world!