Clean Detox
Regular Price: $249.97
Today just $129.00!
Organigreens (2): Flush out your system and rejuvenate with 71 antioxidant-rich fruits, vegetables, herbs, spices, mushrooms, and seeds, plus get your 17 different essential enzymes, and powerful probiotics in a superfood powder more nutrient-dense than juicing.
7 Mushrooms (1): After flushing out the system, restore and maintain healthy immune function, while enjoying a boost of natural energy and mood balance, plus keep your cells healthier and reduce the signs of aging.
Add to cart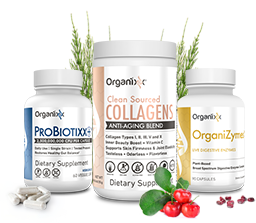 Healthy Gut
Regular Price: $189.83
Today just $129.00!
Clean Sourced Collagens (1): Improves digestion and overall gut health, and boosts your metabolism to burn stubborn fat.
OrganiZymes (1): Crucial for deriving nutrients from foods you eat and eliminating toxins, essential for digestive and immunity support.
ProBiotixx+ (1): Provides powerful natural cleansing for less gas, bloating, and cramping, and creates a strong, healthy gut barrier.
Add to cart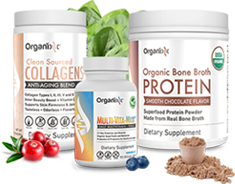 Strong Body
Regular Price: $219.93
Today just $129.00!
Bone Broth Protein (1): Supports immunity, skin & joint health, with 20g of gut-friendly protein to support digestive health.
Clean Sourced Collagens (1): Collagen supports the musculoskeletal system, assisting your body with form, support, stability, and movement, while easing joint stiffness and discomfort.
Multi-Vita-Maxx (1): Provides you 21 different vitamins and minerals, prebiotics and probiotics for healthy gut support.
Add to cart